ONS Journal
Journal of the Oriental Numismatic Society
The Society's journal has been published since 1971, initially as the ONS Newsletter and since 2006 as the Journal of the Oriental Numismatic Society. Starting out as a one-paged sheet, it is now an international peer-reviewed publication that is issued quarterly.
Our archive of past issues can be accessed here.
Please contact our editor Karan Singh if you wish to submit an article for publication in the Journal. His email address is: editor.jons@gmail.com.
244: Summer 2021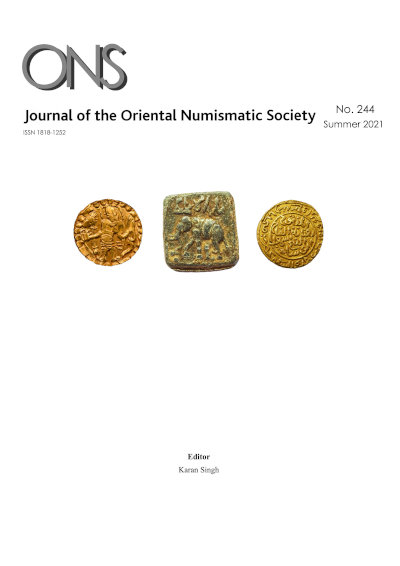 | | Page |
| --- | --- |
| "A Group of Mauryan Punchmarked Coins, Including Mashakas" ~ Tyler Holman | 3 |
| "Greco-Bactrian and Indo-Greek Coinage – Part 1: Notes on the Coins of the Diodotids" (Supplement) ~ Heinz Gawlik | 10 |
| "Heavy Lead Coinage of the Mitra Kings of Ancient Punjab" ~ Karan Singh | 11 |
| "A New Initial of a King of Samatata" ~ Md. Shariful Islam and Md. Shamsuddin | 13 |
| "A Note on the Newly-Discovered Coin and its Context in the Samataṭa Gold Coin Series" ~ Joe Cribb | 19 |
| "A New Gold Coin of Nasir al-Din Isma'il Shah, the Rebel Sultan in the Deccan" ~ Shailendra Bhandare | 23 |
243: Spring 2021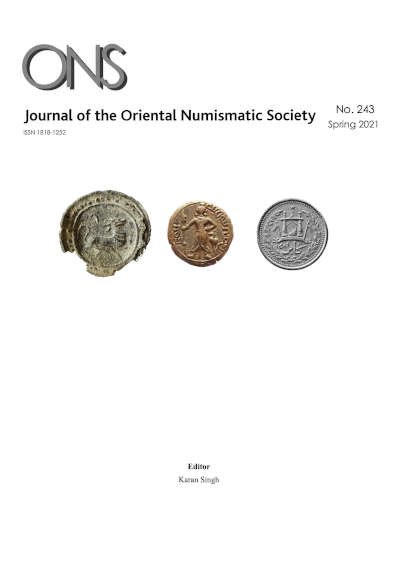 | | Page |
| --- | --- |
| Legends on the Karttikeya-Devasena Coins of the Yaudheyas: A New Classification ~ Karan Singh | 3 |
| Countermarked Arab-Sasanian Copper Coins of Jahrom ~ Seyed Omid Mohammadi and Saeed Soleimani | 8 |
| The First Burmese Coin Hoard Outside Burma ~ S.K. Bose and Nirupam Khanikar | 15 |
| Pyne, McDermott and the Emir: The Advent of Machine-Minted Coinage in Afghanistan ~ N.R. Jenzen-Jones with J. Shanley | 20 |
| ONS news | 24 |
| Book review: Kushan Mystique (David Jongeward) ~ Pankaj Tandon | 26 |